The Seven Habits of Highly Effective People is the most read self-improvement book of all time. The last time I read it was about 20 years ago. I remember it being full of timeless ideas, but I couldn't tell you what they are.
About a month ago, I downloaded it to my Kindle. Each chapter was shocking. Everything applied so well to my life, from work to family. I was kicking myself for not re-reading it sooner. The one concept that stood out was the family mission statement.
The idea is simple and powerful. Your family mission statement provides a destination and Waze-like guidance along the journey. Like any great GPS app, it helps you track your progress, highlighting when you are off course.
Wrong turns are inevitable. They key is seeing them and making a course correction. This sounds great, right? Now the hard part. You have to act. Someone once said, "Knowledge is like paint. It does no good until it is applied."
My goal with this post, and the toolkit I created, is to help you act. Let me share a bit about the process, show you the results and help you get started.
As with most things, the process is more important than the product. This is about exploring what your family is all about. You will do it, as a family. This is not about imposing a set of rules on your kids. It is about bringing clarity to your family destination.
Here is what we came up with: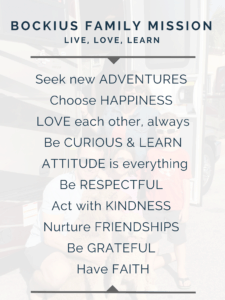 To help you build your own family mission statement, I created a toolkit (you can get access below) around this process.
Step 1: Reflect on a series of questions
Depending on the age of your kids, this will be the toughest part. It is also the most valuable. There are ten questions designed to highlight who you are, what you need to work on and more. Questions like:
What does our family love doing together?
What do we need to change as a family?
What words best describe our family?
Remember, everyone has a voice. There are no bad answers. Work to include everyone in the process. You want them to feel heard. Write down every idea so the entire family can see the progress. Keep adding answers until you run out of ideas. Then move on to the next question. At the end, you will have something that looks like this.
It is a good idea to take a break here. To make the process worthwhile you will want to keep the kids energy and focus high. Give them 15 minutes and call them back for the next step.
Step 2: Vote on core values
This is a two-part exercise. First, you need to choose ten core values. I created a list you can print out in the Family Mission Statement Toolkit. Everyone selects their top ten.
Next, write these on a whiteboard or large sticky note on the wall. Now the fun part. Everyone needs to pick their top five. Write it on a piece of paper so you don't influence one another with your choices. Then tally the votes. We used post-it-notes to visualize the votes and winners.
Parents are responsible for creating the final list of ten core values. You might find that you can combine a few together. You might also have to make a call on ties. Send the kids on another break and work through this process until you have your top ten.
Step 3: Create a slogan
Like the core values, this is a two-part exercise. First, brainstorm a set of slogans. You are looking for a short, memorable phrase that sums up what your family is about.
Once you have your list, go through the same voting process. In this step, everyone should pick their top three. If you have a tie after you tally the votes, redo the process with the slogans that topped the list.
Step 4: Write your Family Mission Statement
This step is for the parents. Take your ten core values, write them down and think about ways to bring them to life.
Here is the list we started with:
Adventure
Happiness
Love
Curiosity
Attitude
Respectful
Kindness
Friendships
Grateful
Faith
And here is the final product:
Seek out new adventures
Choose happiness
Love each other, always
Be curious and learn
Attitude is everything
Be respectful
Act with kindness
Nurture friendships
Be grateful
Have faith
Once you have your mission statement complete, hang it in your house so everyone can see it. Then come back and review it every 3-6 months to see if anything has changed. Is the mission still correct? Have a conversation and make the necessary updates.
At this point you might be thinking "Wow, I would never do this." I hope you also say "Wow, I need to do this." The next thought that enters your mind is where most people fail. Right now, your mind is thinking of excuses. Reasons why you won't go through the process. Everything from fear, to doubt, to anxiety. Don't listen to yourself! Decide right now that you are going to do this. Set a date and hold yourself accountable.
A short time ago, I realized that I wasn't doing enough work on my family. Don't get me wrong. I consider myself to be a good father and husband. I try to do the right things and be with my family. I am present and engaged, but that is not enough.
At work, I'll spend countless hours developing a direction, a sense of purpose and tracking results. Imagine if you were just present at work. It would never be enough to achieve your goals. I became determined to apply the same effort I apply to work, to my family.
Getting clear about my priorities was the first step. The second, was acting on them in the right way. The Family Mission Statement is one way I am holding myself accountable to my priorities.
If you want to create your own Family Mission Statement I created a toolkit that can help. It includes an overview of the process, sample exercises, examples and directions on how to design the final product. Drop your email below and I'll send it over right away.