We all knew it was coming and 2017 was the big year. The big 40. A group of us met in college and have been friends ever since. It was a given we would all get together to celebrate. The big question was where to go.
After many ideas and failed attempts, Cuba became an obvious choice. After settling on a date, we locked down lodging. We went all out and got an amazing AirBNB about 20 minutes outside of Havanna.
With a house secured, we moved on to tickets. Here are a few things to remember:
You need a passport.
You also need to buy a Visa. It is $50 easy to do online. You can do it on the day of travel, but I would do it in advance
You need to buy health insurance for the time you are on the island. Southwest includes this with your fare.
Preparation
Reserve tickets at the famous Tropicana before you come. Pay the $95 bucks for the best seats in the house. It is definitely worth it. They give you rum, Cokes, cigars and for $5 CUC (their currency) they will let you take pictures. Yes, you have to pay and you should. The show starts at 10pm but your tickets will say 8:30.
Credit cards do not work on the island. Make sure you bring enough cash.
Convert dollars to Euros before you travel. It will save you 10% on the conversion.
Learn Spanish. This is not Mexico, no one seems to speak English.
If you can't learn Spanish before the trip, Download Google Translate. Make sure you download the English to Spanish dictionary so it works offline.
Download an offline GPS app, like Maps.me or Google Maps. Once you have the app, download the maps for Cuba.
Do your research, print or put what you need on your phone. You have to come prepared.
Travel
DO NOT check bags. You will wait 90 minutes for them to come out.
Toiletries are expensive on the island, if you can find them at all. Don't forget anything.
Pack some snacks as well. We only saw one convenience store along a 15 mile stretch.
Don't forget to exchange your money before you leave the airport airport. You can do this in Havanna but there are usually long lines. If you have to convert money in Havanna try the nice hotels first.
Cabs should cost $1CUC / KM. In our experience it was more like $2CUC. Always negotiate (language can be a problem). There are more drivers than there are riders.
Getting around
If you are staying outside of the Havana, you will spend quite a bit on taxis. There is not much on the outskirts so you have to head to town.
The cars are awesome! Remember the nicer the ride, the more you will pay.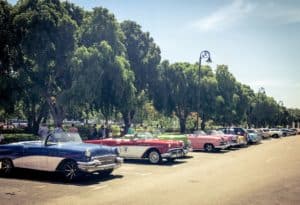 Get a convertible at least once. You can do a 45 minute tour of Havana, but we never did. There is plenty to see driving between our place and the city.
Walking is one of the best ways to get around once you are in Havanna. There is plenty to see. Pick a direction and start exploring.
Nothing moves fast in Cuba. Be prepared to wait.
Where to eat
The first thing to know is that the food is average. When in doubt, go with the pork. This was always good.
Hotel Nacional has some great history. It was the hose of the infamous Mob summit known as the Havana Conference. There is a restaurant next to the lawn in back. Order the Ropa vieja, the Cuban dish of all Cuban dishes. It was one of the best meals we had.
Grab some street food. We went with Cuban sandwiches and they were pretty good.
Stop by Hotel Saratago's rooftop bar for a great view of the country. The service is lacking and food doesn't look like much. After you snap a few pictures head around the corner to SIA-KARA. It's behind the capital down a little side street. Cost wise, this was the most reasonable. We had dinner for five with a few rounds of drinks and it was $80 CUC.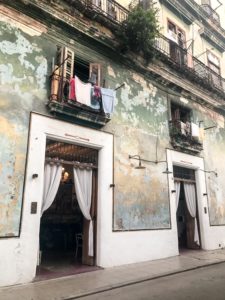 There are no signs so look for this door.
Where to drink
Any place that has Cuban coffee. It rocks!
Swing by Santa Isabella for a mojito, they were the best we had on the whole trip. Tons of famous people have visited, including Jack Nicholson, Sting and Jimmy Carter.
Plaza Vieja is fun. There is a micro-brewery that had live music and serves draft towers for the table. The skewers of meat and fish are pretty good too.
El Floridita was Hemingway's favorite bar and home of the daiquiri. A lot of people say it is touristy and it is. But the daiquiris can't be beat. We went twice.
Check out a few of the local bars in the back alleys. Be sure to pick one with a band. The musicians are amazing and it's always a good time.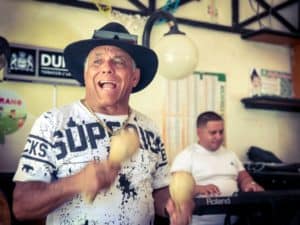 Where to shop
There are very few places to shop. You can pick up souvenirs at one of the back alleys. Every shop seemed to have the same things.
There is a larger market in the new part of Havanna. They have a lot more to choose from.
The best cigar shop is at Hotel Conde de Villanueva. Stop by here after you've spent a few hours walking around. The AC and bar are perfect.
Cuban cigars are VERY good. Our favorite was Montecristo #2. A box of 25 costs $240 CUC. People sell them on the street, but be weary, they are usually fakes.
Where to party
Fabrica de Arte Cubano is one of the hottest night spots. You have to get there by 8 if you want to avoid a long line. We skipped it.
The Tropicana. See my note above about getting tickets in advance.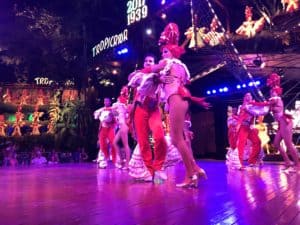 Staying connected
The island has little to know WIFI. You can go to an internet cafe, but don't even bother. Every place we saw had a big line.
Your cell will work on roaming, but the rates for voice and text are expensive.
Getting home
People say you need to arrive at the airport three hours in advance. It wasn't necessary for me, but given how things operate, I would not take the chance.
Make sure you know your terminal. Southwest is Terminal 2, not the International Terminal. This mistake cost me $10 CUC.
Other lessons
The people are very nice. We had a ton of people-to-people education (the official purpose of our visit). Although parts of town were sketchy, it always seemed safe.
There are two currencies on the island. When you get change, be sure you know the difference between CUP and CUC.
Toilet seats and paper are optional at a lot of the restaurants and bars.
The economy
Doctors only make $30 dollars a month, whereas cab drivers can make 3-5 times that a day. It is crazy. TVs can cost $10K. You won't find many shops or convenience stores. The people here don't have a lot of money and no need to spend it on things.
People worry about Cuba becoming commercialized. I can't imagine that happening any time fast. Communism itself will slow or prevent progress. For example, the Capitale is undergoing renovations and this started 7 years ago.
Cuba is a once in a lifetime trip. We had an absolute blast! If you have a chance, you need to go.